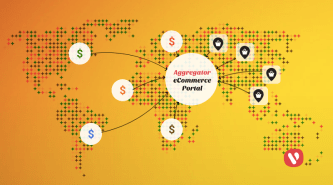 In today's startup age, many merchant aggregators are shaking-up the digital payment process and changing the world of online eCommerce technology. Because of this influence, the aggregator model is spreading in popularity and usage at breakneck speed across the globe.


In India, its usage is most prominent, but as of recently, it's been falling victim to the service tax net, affecting the many components and aspects of India's growing eCommerce landscape, both positively and negatively.


What is eCommerce?
The word "eCommerce" is defined as the trading of goods, services, or information over the internet between two entities, with the "e" standing for electronic. It's how you're able to shop and purchase items entirely online. The advantages of using eCommerce include the ability to globalize your business, increases and expands the amount of purchasing opportunities for consumers, low staffing costs, higher customer retention, more customer loyalty, and, above all else, convenience.


What's the Aggregator Model?
An aggregator model is a form of eCommerce in which a website does not store or warehouse its own goods, but rather collects, or aggregates, information on several goods and services and conglomerates them into a single platform. Prices and specifications are then easily matched-up to each customer based on what they're searching for, how much they can spend, what they filter-out, and what they've been recently searching for.


The aggregator model allows consumers the most convenience possible throughout their shopping experience. It allows said experience to be customized, tailored, and fit to the needs and wants of the consumers, putting them first and adding value to their feedback and services. In the world of online business, since direct contact is not possible, everything and anything possible that can be done to increase customer loyalty and retention must be implemented for maximum success.


The goal of the aggregator model is to create an appetizing eCommerce environment that will draw-in a large consumer base. This is the core marketing and finance technique that merchant aggregators are using to revolutionize the way we do eCommerce and online shopping.


India's 2015 Finance Bill
Despite the success the aggregator model can bring upon those who use it, the cost of using it has begun to rise since India's Parliament passed the 2015 Finance Bill. This bill proposed specific changes regarding the Service Tax Rules, which will, in turn, affect the way online transactions that utilize the aggregator model are taxed and completed.


The Finance Minister of the Indian Parliament clarified the amendment made to the Service Tax Rules, stating that any service or aggregator that utilizes the aggregator model under its own brand name in India is subject to service tax; however, if said aggregator does not hold any presence, including by way of representative, then an agent or third-party appointed by the aggregator must pay the tax instead.


In other words, aggregators and aggregators of the aggregator model are now required to pay service tax whenever they use their brand name to process online transactions. This undoubtedly drives-up the cost of using this form of eCommerce.


What exactly does this mean for eCommerce services? It means less money going to them and more money going to the government. For instance, cab and travel services that utilize the aggregator model for luxury cab operators, such as Uber and TripAdvisor respectively, will now be taxable, along with any other app or online service that makes usage of merchant aggregators or the aggregator model, such as food portals.


Some More Notable Changes 
An example of economic and financial change that the rise of online aggregators are bringing about is how personal insurance lines will be marketed, a massive industry in India. In the past, aggregators aided the sale of insurance and made profit that way.


But now, with this taxability being put into place, online aggregators will now be competing with insurers on a price-based competitive level, resulting in falling portability for insurers.


The larger insurance brands are going to suffer the most from this dominance that online aggregators are illustrating, whereas the smaller brands are going to benefit the most. The larger brands will suffer losses in customer retention and profitability, as well as suffer from brand dilution and loss of market shares.


The smaller insurers and those that are just starting-up that provide low costs and more flexibility will have access to a much wider and larger consumer base. Since the aggregators will be able to save more money by gathering and sharing their information more freely and widely than that of the larger insurers, an increase from the bottom-up in the world of insurance is bound to happen.


Conclusion
The amendments made to the Service Tax Rules aren't just requiring aggregators to pay full service tax now, they're also requiring the service receivers of mobile and online advertising to pay the full burden of service tax, as well. Earlier, the service providers would have to pay a small partition of the service tax (around twenty-five per cent), but now, the entire ordeal falls onto those who are purchasing the advertising services.


This inherently means that advertisers will now be saving money whenever they sell their advertising services to organizations and other ecommerce businesses. A massive increase in India's advertising space will most certainly rise as a result of the Finance Bill.




About Deepak Chauhan
Hi I am Deepak Chauhan, a Digital Marketing Strategist. I'm the CEO & Co-Founder of VOCSO WEB STUDIO, a Creative Web Design & Development Agency based out of India & USA. I love to blog about my experiences and strategies to help new startups. When I'm not working, I'm either travelling, playing foosball, cricket or learning photography.
Facebook • Twitter • Google • Youtube • Flickr • Pinterest •